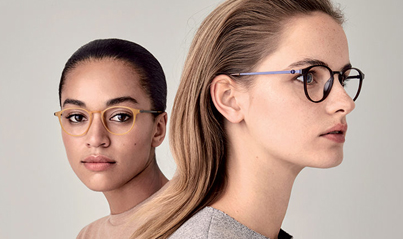 Throughout our 30-year history, we have offered eyewear that delivers lasting quality and lightness. From the thinnest titanium frames to chunky acetate, our frames will never weigh you down.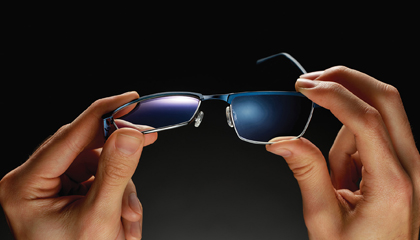 "A smart man who can face life with confidence. A confident man, the flexon wearer knows whatever happens in life, no matter the situation his frame will always comfortably return to its original shape. He loves to bend the rules."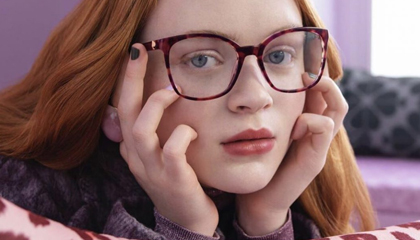 Founded in New York in 1993, Kate Spade is a brand that is strongly rooted in optimistic femininity, joy, and style. Kate Spade appeals to empowered women across generations and time zones who want to live their lives to the fullest. The eyewear collection reflects these values through the use of playful colors, prints.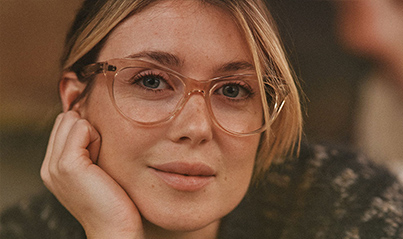 We want you to have the best fitting glasses. Designed by opticians to ensure a great fit. Best-in-class materials selected to fit comfortably and last generations. Manufactured in Japan to the highest standards. All this, to achieve the best fitting glasses that are timeless.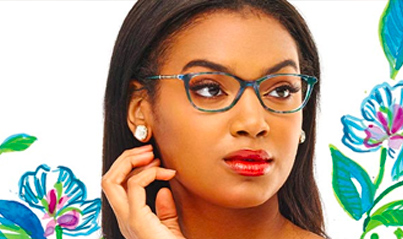 Lilly Pulitzer is the originator of American Resort wear. A Lilly is defined by bright color and wild print. The eyewear collection features these hand-drawn prints, along with chic, feminine shapes and styling.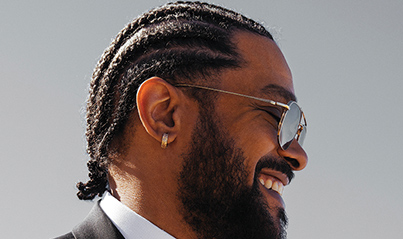 STATE Optical Co. is a first-of-its-kind brand of luxury American eyewear built from the ground up in Chicago - our hometown. Our frames are meticulously handcrafted to be a genuine expression of one's personal style and distinct personality. We invite you to take a closer look at the people and story behind them.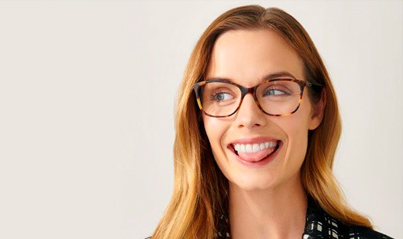 Nicole miller is a global fashion and lifestyle brand headquartered in new york city. Founded in 1982, the iconic brand has grown to be one of the premier names in american fashion. With an emphasis on signature graphic prints, luxe fabrics and innovative silhouettes.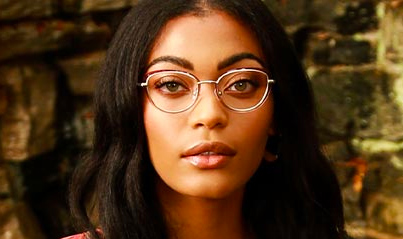 The Zac Posen eyewear collection includes both women's and men's styles. The women's collection combines chic, feminine eye shapes with dramatic gestures and fine materials to enhance the natural beauty of a woman's face, while the men's styles use distinctive, masculine shapes, classic European acetates and signature hardware.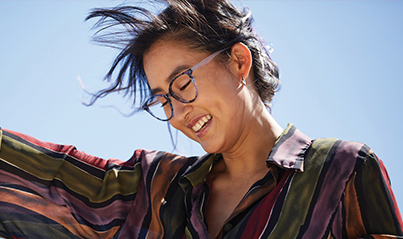 Adin Thomas offers accessible eyewear with everything from explorative to traditional styles in a wide size range. Explore your personality with Adin Thomas eyewear. Finding a signature style takes time, but the journey is half the fun! Adin Thomas allows you to experiment without breaking the bank.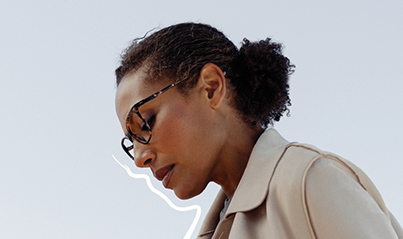 Eyewear, even more so than jewelry, becomes a part of how the world sees you. Cinzia takes that choice very seriously. Born unapologetically from the unique point of view of designer Cynthia Shapiro, Cinzia eyewear favors sophistication over femininity and personal style over chasing fads. Each frame is designed to emanate confidence, perfect for the woman unafraid to make her mark.

Created on the Hawaiian Islands to make the colors shine, Maui Jim sunglasses feature patented PolarizedPlus2® lens technology for brilliant color so every detail is crisper and cleaner and without glare or harmful UV. Slip on a pair and See The Brilliance.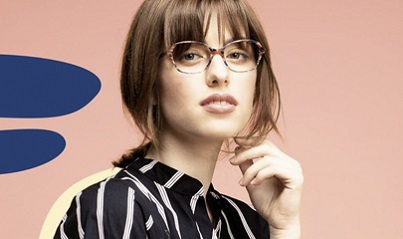 Lafont – Superb Parisian optical eyewear with over ninety years of experience. Unparalleled expertise with an emphasis on elegance and strong family values – all backed by a name you can depend on: Lafont. Glasses hand made in France, making Parisian chic accessible worldwide.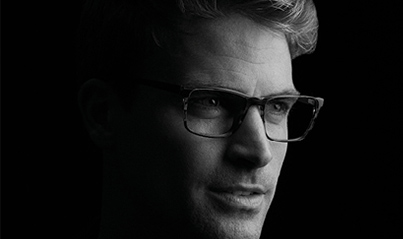 Some decisions are complicated, choosing eyewear doesn't have to be. Michael Ryen eyewear is designed to provide discerning men a breadth of options in a wide range of sizes. Three principles drive the design and execution of every Michael Ryen frame: Fit, Quality, & Style.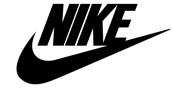 Nike has revolutionized athletic footwear and sportswear. Nike's vast range of products includes specialized training gear, footwear, apparel, accessories, and sports equipment. Through innovative products, advertising, and sponsorship of teams and athletes, Nike has become a leader in the sportswear industry and one of the world's largest brands. Nike Vision eyewear brings the same inspiration and innovation to athletes with product that helps them See Sport Better.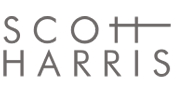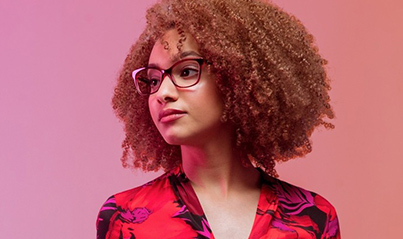 Scott Harris isn't about prescribing uniform eyewear; it's about providing you with the options to best suit your unique self. Across men's, women's, and unisex options - Scott Harris offers fresh, timely, colorful stylings free of heavy embellishments. "Eyewear should fit both your face and your personality naturally, and it should be unique enough to fit them both perfectly." - Scott Harris Shapiro

Nine West defines timeless, feminine style, translating key trends into wearable and attainable collections of footwear, apparel and accessories. The eyewear collection incorporates design elements from the latest Nine West shoe and accessories collections and reinterprets them into high fashion frames. The collection unites iconic silhouettes in contemporary colorations with bold, modern design details.

Responding to a demand for well-priced eyewear accessorising, CHARMANT designers took to the drawing board to create a timeless look that would appeal to many tastes while still providing excellent functionality. The result is ARISTAR: classically styled frames for women and men who place a high value on reliable quality and affordability.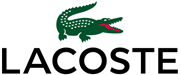 "For Lacoste, Life is a Beautiful Sport! Since the very first polo was created in 1933, Lacoste relies on its authentic sportive roots to spring optimism and elegance on the world thanks to a unique and original lifestyle for women, men and children. With a vision to be the leading player in the premium casual wear market, the Crocodile brand is today present in 120 countries through a selective distribution network. Two Lacoste items are sold every second in the world."
ELLE is the world's most successful fashion magazine. Rather than simply reporting the latest trends, the publication has often dictated them to its readers and so it is hardly surprising that the brand has put its name to a range of different accessories for women over its lifespan. The aesthetic of this collection of prescription glasses is summarized by the word 'sophistication'; the square/rectangular frame which dominates this line is a classically attractive and professional shape.

Marc Jacobs is one of the most important designers of today. Since 2000 he has offered the experience of his coveted talents in a more relaxed and youthful label, Marc by Marc Jacobs. Marc By Marc Jacobs echoes the humorous and fun fashion forward aesthetic seen in his catwalk shows. The collection of Marc By Marc Jacobs range includes quirky shapes, prints and vivid color.

Juicy couture presents a desirable eyewear collection packed with fun. Juicy Couture are vibrant in every color imaginable. Designed for the socially conscious customer with an eye for fashion, these fun-seeking frames are a real style statement. The combination of the brand logo and use of charms make these Juicy Couture, a girly must have.

Youthfulness and self-confidence are attributes that Esprit stands for just as much as effortless style and everyday suitability, without forgetting the elegant touch. The label rarely allows itself to be hooked onto trends but plays a key role in creating them.

Silhouette glasses and sunglasses are for prestige-oriented women who want to express their high lifestyle standards in their outlook as well. Silhouette's popular line of rimless eyeglasses are so lightweight and comfortable, it's almost like not wearing eyewear. The feeling of relaxed freedom, independence, and easiness for all your senses are Silhouette's inspiration for innovation and revolution.

The David Benjamin collection is for people who want their eyewear to reflect their personal style. For men and women who understand that glasses are an accessory. After all, why should your clothes have all the fun? This collection is on the cutting edge of both design and technology. Featuring frames made from acetate and metal, in every color you can imagine, with finishes that are matte, shiny, metallic, pearlized, we've got it all.

Cote D'Azur eyewear aims to capture a moment of grace in the design of every frame, offering elegant styling for women who appreciate fine details and feminine touches, all designed to highlight your natural beauty. Only premium materials are used and all styles are designed to accommodate a wide range of prescriptions.

When the late Alan J. Shapiro started his own eyewear company out of a garage in the 70s, he didn't have a lot of resources but he had plenty of grit, a contagious energy, and the determination to do things his own way. He valued honesty more than status and people more than profits. By focusing on quality you can feel, frames you can wear with confidence, and a company you can feel good about supporting, the Alan J. collection pays tribute to the man who inspired it all. Every Alan J frame is handcrafted by a team of skilled artisans in our Illinois factory with the finest globally sourced components.

Original Penguin is an iconic American clothing line with roots in the Rat Pack era of the 1950's. The brand catapulted back into fashion in 2000, when young men demanded that their favorite stores restock the golf shirt that originally made the brand famous. Today, Original Penguin includes men's clothing, accessories, footwear and eyewear.

Vera has mastered the art of mixing materials. Her collections showcase not only impeccable tailoring but also classic Deconstructionism. When translated into eyewear, these themes feature Vera's signature use of edgy, boyish, yet romantic elements in the form of shapes that range from feminine to masculine - always keeping them modern, flattering, and fresh.

Through the use of energetic, sport inspired shapes the TMX by Timex collection is as active and adventurous as the teenagers who wear them. They want their look to define who they are. TMX is sports inspired with extreme styling and high-energy shapes and with all Timex brands TMX Eyewear is made with quality materials at an affordable price.

Timex, world renowned for ages in the making of precision watches, now introduces the Timex Eyeglasses Collection. Made by Kenmark Eyewear, one of the world's largest makers of eyeglasses, Timex Eyewear is well-made and comes in a large variety of shapes and colors to fit all tastes.

Kensie glasses live in a world of feminine trends, together with a healthy dose of positive and playful charisma. The glasses collection is inspired by the runway - hot fashion trends and what the modern girl really needs. Dressing for the emotion of the moment is what defines Kensie, and the Kensie girl. Kensie girls know how to play, and to do it with vigou

L'Amy America introduces the TLG Collection, an acronym for Thin Light Glasses. The new men's collection is designed to be thinner and lighter with the use of innovative materials and technological features. Designed with 100 percent pure titanium, frames are hypoallergenic and nickel free, and 48 percent lighter than ordinary metal frames.
Named after the rising designer, the Dana Buchman Vision glasses collection includes a range of pieces with striking designs. The colors, which range from red to hazel, evoke a sophisticated look. Lightweight materials are used for all of the collections. The Dana Buchman Vision glasses collection complements the designer's style with characteristic agility and subtlety.

Ann Taylor glasses get women, and the glasses collection embodies that concept. Ann Taylor glasses bring it all together for women. Real women live complicated lives - activities, roles, expectations - but what they value most is connections. Women do this by making good choices and looking and feeling good. Living with confidence and style.

AutoFlex frames by Marchon return to shape even after accidental bending. AutoFlex eyewear eyeglasses offers the wearer superior eyewear that provides comfort, durability and functionality that only a technologically superior product can deliver.

The Tres Jolie Eyewear Collection features ultra feminine and beautiful styling; shapes, colors and textures that will not only compliment today's woman but will complement her lifestyle with elegance and sophistication. Enhanced with pearls and stone embellishments, Tres Jolie glasses and frames will surely live up to their name…Very pretty and very elegant.

Flexon kids eyeglasses are a great option for any child and there are some great frame options out there from the brand. The Flexon Kids Apollo frame is a great place to start when learning about this brand. This frame is a great rectangle shape that is going to be universally flattering on a ton of different face shapes. These kids eyeglasses come in four colors, black, gunmetal, brown and navy. This is a simple enough frame shape and design but is a great option if you want something that is going to be a little different.

Designer eyeglasses frames for women by Vera Bradley are eye-catching works of art, featuring distinctive design elements, beautiful patterns, or both. The brand is known for the original patterns adorning its handbags, luggage, home goods, and accessories, including eyeglasses.

Inspired by the dynamic and colorful California landscape, Trina Turk makes designer eyeglasses in a variety of eye-catching hues and prints. Look for metal accents on the temple arms and cutaway detailing at the hinges, along with elegantly understated eyeglasses styles.

Turk frames are designed for men who want to make a statement with their wardrobe. The collection is lively and confident, with vintage-inspired styling and colors. Each frame provides the best of the '60s and '70s styling reworked with a modern flare. They show off luxe design elements that are sure to impress.

Frames with rounded edges and semi-rimless styles come in muted hues, nature-inspired color combinations, or rich shades. Contemporary styling and an earthy influence blend seamlessly. Ducks Unlimited offers refined eyeglasses tough enough to take on your latest adventures.

Badgley Mischka offers elegant style that caters to a young, modern, couture customer, without forsaking women and men of any age. The McGee Group is thrilled to translate the glamour of Hollywood award nights into fashionable eyewear and sunwear, with the highest quality products and design elements.

Levi's, one of the most recognized denim brands in the world, known for inventing the 'blue jean' nearly 150 years ago is now available in an eyewear collection. The range offers distinct shapes and lines throughout, appealing to both style seekers and classic wearers.

Argyleculture glasses are the invention of Russell Simmons, an icon in business, music, and fashion. Co-founder of Def Jam records, inventor of the Phat Farm brand, Russell Simmons has a proven record of success and fashion sense. Through his brand Argyleculture glasses he has carefully built a worldwide designer reputation for stylish quality and fashionable craftsmanship

Miraflex frames offer an anatomically designed bridge that eliminates the need for nose pads and the inherent, associated risk. Our elastic band wraps behind the head and assures the frames stay seated properly on the face with tensors that take up any elastic slack.

Fossil takes inspiration from the typical mid-1920's design, combining it with the desires of the modern customer. This "modern vintage" philosophy hints at classical, but at the same time contemporary, aesthetics. The collection targets customers who are searching for trendy glasses with neat and colored shapes. Sunglasses are young, sporty and easy to wear, with polarized lenses and flexible hinges.

Sàfilo Elasta makes classic, minimalist eyeglasses styles for men, in comfortable frames that stand up to extended wear. Using state-of-the-art materials, including acetate plastic and Monel metal, this company creates a variety of timeless eyeglasses frames with modern design sensibilities.
This luxurious, stylish ophthalmic collection is designed for sophisticated women who are looking to accent their facial features with feminine and jewelry-like details. Targeted to women over 40, the made-in-Italy Emozioni line is the perfect marriage of beautiful design and practical function. The high-quality styles are extremely comfortable and feature the Sàfilo Elasta® spring hinge;

Chesterfield glasses are synonymous with exceptional materials, design, and fabrication—a true icon in glasses. The Chesterfield glasses collection awakens the Chesterfield man or woman to an eyeglasses wardrobe full of color and innovative materials. The feel is casual with a subtle flair of sophistication.

Banana Republic eyewear offers freedom of expression, while being subtle enough to suit both professional and personal settings. With an ultra-cool, modern aesthetic, Banana Republic brings you eyewear that's distinct in its quality, wearability, and luxury feel. Choose your new pair of glasses from their range of timeless shapes in bold full-rimmed and semi-rimless styles.

Liz Claiborne eyewear is for the woman who is trend-right not trend-forward. She seeks smart style and easy elegance, she is modern, authentic, but doesn't want to go overboard.

Wiley X creates the world's most precise and impact-resistant lenses for our frames. Our proprietary Digiforce™ technology digitally maps your prescription to fit your frame selection and unique facial measurements. The result is a custom set of eyewear that produces crisp details, enhanced clarity and minimized distortion.